By: Sarah Zasso, SHRM-SCP, SPHR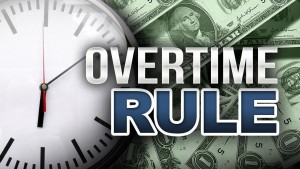 Do you have exempt employees?  If so, there are some big changes on the horizon that may make a large impact on your organization, regardless of size.  By the close of 2016, the new FLSA overtime rules are anticipated to take effect.
What is exempt?  Exempt, put simply, means exempt from overtime.  The employee makes the same weekly salary whether they work 35 hours or 55 hours per week. Currently, there are two thresholds that must be met for a position to be exempt: 1) the salary must be at least $455 week and 2) satisfy the job duties test.
The DOL (Department of Labor) has proposed a revision to FLSA (Fair Labor Standards Act) regulations in concern to overtime.  The DOL has proposed to change the salary minimum from $455/week to $970/week.  What does this mean for you?  This means that you may have employees who are currently exempt who will no longer qualify as exempt under the new salary test.  They would become nonexempt and you will be required by law to pay them overtime for all hours worked over 40 in a scheduled workweek.  Now, you may be thinking – this isn't going to pass, there's no way!  I'm sorry to disappoint you, but all signs are pointing to the change getting approval and put in effect by the end of 2016.  However, the salary may not increase as much, but will almost certainly have some form of a significant increase.
So, what do you do?  If you have exempt employees, the time is now to start determining their status if this change does in fact take effect.  I wish I could tell you that there is a "one size fits all" answer, but that would be untrue.  Each situation/company is different.
Note:  Before you take ANY action, please consult an HR Consultant ( like Sabeza HR!) or an employment law attorney.  It is critical to think "big" picture.  Not only do you have to take into consideration salary, but also potential discrimination risk.
Below are some initial steps provided by SHRM to help with your compliance efforts in preparation of the final overtime rule release:
Identify currently exempt jobs with salaries that fall below the proposed new salary threshold for exempt employees, using $970 per week, or $50,440 per year.
Determine whether to have a zone within which employees close to the new threshold will get bumped up to maintain exempt status, or whether the approach will be to reclassify as nonexempt all employees whose current salary is below the new minimum.
For employees who probably will be reclassified, understand now how many hours they are working per week so employers can model pay going forward with reasonable accuracy.
Determine what approach to take in setting nonexempt pay rates. Will the hourly rate simply be the current weekly salary divided by 40, or will there be an effort to replicate current pay and hours, such as by lowering the hourly rate to account for the possibility of overtime compensation.
Consider whether to reclassify other positions at this time to manage risk and enhance compliance.
REMINDER:  This is all based on "position," not the "employee."  These are initial steps, please consult a human resources consultant and/or an employment law attorney before you take any action.
It is also important to consider what operational changes will be made to account for the reduction or shift in workload.  Should you hire more employees?  Can you afford more employees – what if you can't?  These are questions you should be asking yourself now.
Lastly, how will you communicate this to employees?  Some employees like the "status" of being exempt, it's important to express the change to them in a manner that does not reflect their performance or stature within the company negatively.  Some may just not understand – it's important to provide clear, concise, and consistent communication.
I recommend you start this process now, so that you are not unprepared when the change takes effect.
If you have questions or concerns, please do not hesitate to contact Sabeza HR.  As your Human Resources Solution, we are here to help you navigate this confusing process.
Sarah Zasso is the Owner/Principal HR Consultant of Sabeza HR (www.SabezaHR.com), a Human Resources Consulting and Recruiting company.  Sarah has almost 15 years of Human Resources experience, achieved both the SHRM-SCP and SPHR certifications, earned a Bachelor's degree in Organizational Leadership and Communication, and currently serves on the Board of the Coastal Organization of Human Resources.  If you have any questions, please do not hesitate to contact Sarah at [email protected].  
This article is for general information purposes only.  I am not an attorney; accordingly, the information presented is not legal advice, and is not to be acted on as such.