The Families First Coronavirus Response Act (FFCRA) requires certain employers to provide their employees with paid sick leave or expanded family and medical leave for specified reasons related to COVID-19. The Department of Labor's (Department) Wage and Hour Division (WHD) administers and enforces the new law's paid leave requirements. These provisions will apply from April 1,2020 through December 31, 2020. – Fisher Phillips
Please note that …"Covered employers qualify for dollar-for-dollar reimbursement through tax credits for all qualifying wages paid under the FFCRA. Qualifying wages are those paid to an employee who takes leave under the Act for a qualifying reason, up to the appropriate per diem and aggregate payment caps. Applicable tax credits also extend to amounts paid or incurred to maintain health insurance coverage."
On 3/25/2020, the Department of Labor released the FFCRA (Families First Coronavirus Response Act) Poster.  All covered employers [DOL: The paid sick leave and expanded family and medical leave provisions of the FFCRA apply to certain public employers, and private employers with fewer than 500 employees. Small businesses with fewer than 50 employees may qualify for exemption from the requirement to provide leave due to school closings or child care unavailability if the leave requirements would jeopardize the viability of the business as a going concern.] should post this poster immediately, in a conspicuous place that all employees can see.  If you have remote employees, you may email (or mail) it to them to satisfy the requirement.
The DOL has also released an Employee Fact Sheet, Employer Fact Sheet, FFCRA Q & A, COVID19 and FLSA Q & A, and COVID19 and FMLA Q & A.  Please read all of the communication provided by the Department of Labor to ensure you understand the program and are in compliance.
The DOL communications can answer many of your questions, but I am always here to help you navigate through these unprecedented times. This is a fluid and oft-changing situation – be prepared for potential updates to this program (or others) in the coming weeks and months.
***"To qualify for FFCRA, an employee must miss work for specifically designated reasons.  Unemployment, on the other hand, applies when an employer no longer has a job for an employee and subjects that employee to a layoff, furlough, or termination situation."***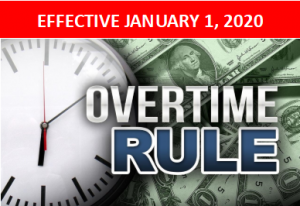 It's back.  And it's finalized.
Employees who make less than $35,568 are now eligible for overtime pay under a final rule issued today (9/24/19) by the U.S. Department of Labor (DOL). The new rate will take effect Jan. 1, 2020.
To be exempt from overtime under the federal Fair Labor Standards Act, employees must be paid a salary of at least the threshold amount and meet certain duties tests. If they are paid less or do not meet the tests, they must be paid 1 1/2 times their regular hourly rate for hours worked in excess of 40 in a workweek.
The new rule will raise the salary threshold to $684 a week ($35,568 annualized) from $455 a week ($23,660 annualized).
Under the new rule, nondiscretionary bonuses and incentive payments (including commissions) paid on an annual or more frequent basis may be used to satisfy up to 10 percent of the standard salary level.
In addition to raising the salary cutoff for exempt workers, the new rule raises the threshold for highly compensated employees from $100,000 a year to $107,432 (of which $684 must be paid weekly on a salary or fee basis).
-SHRM
What Should Employers Do Now?
Review your active employee census and determine if those that are currently exempt meet the new salary requirements.
Determine which employees do not currently meet the salary threshold.
Create a plan to adjust status to ensure your employee classifications are FLSA compliant.
Create a plan of communication to affected employees (remember, many employees look as exempt classification as a higher "status" within the organization.  It's critical that this is communicated to them in a way that does not unnecessarily reduce morale.)
Consider This:
When you are evaluating your approach to adjusting exempt status, there are a variety of things to consider…
Will this affect PTO status?
Will this affect benefits status?
If an exempt employee is now exempt, do I need to ask them to return company equipment (cell phone, etc)?
How do we manage workload?
Is there discrimination risk with our strategy?
Note:  Job titles do NOT determine exempt status.  In order to qualify as exempt, the job duties and salary requirements must both be met.  The job duties test varies and has not had any announced changes.
---
If you feel that you are not ready for 1/1/20 or have questions, Sabeza HR is here to help.  Email [email protected] or call 843-691-9092.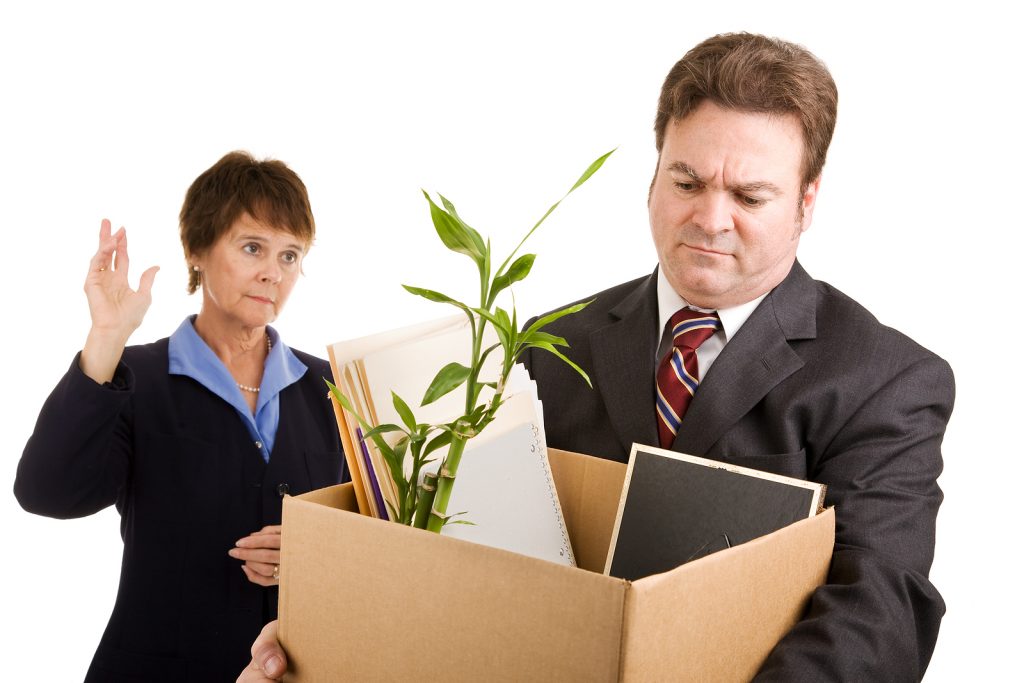 One of the biggest compliments that I ever received was from a Manager who I fired.
As an HR Consultant (www.SabezaHR.com), I often conduct 3rd Party Investigations for my clients – from EEOC (i.e. Harassment) claims to general workplace grievances. My approach with employees is to always LISTEN and be DIRECT, but RESPECTFUL.
I conducted an investigation where a Manager threatened to fight an employee, in front of multiple witnesses. I conducted the investigation as I normally do – it was fairly easy compared to most, since I had 5+ witnesses and consistent accounts of the incident.  He denied the allegations.  As a result of the investigation and previous inappropriate behavior, his employment was terminated – and I delivered the message.
He called me a few days later to THANK ME. He said that he understood that I had a job to do, but I listened to him and was respectful and that made this process easier for him. Because I explained everything to him, he understood the decision and appreciated how it was handled.  
Wow! I was speechless (which if you know me, you know that is rare) and to this day, I am so appreciative that he took the time to make that phone call. Not only is that pride and validation for me, but more importantly – I was able to make a positive impact on someone during one of the worst times of their life.
This is just a reminder that the next time you have a "tough" conversation with an employee, remember to listen and be direct, but respectful. It goes a long way.
#FlashbackFriday #FBF #SabezaHR #Investigations
Late March 7, 2019, the Department of Labor (DOL) issued a proposed new overtime rule, increasing the salary-level threshold for qualified exempt employees from $23,660 to $35,308 per year.
According to the Society for Human Resource Management, "Employers should note that the DOL's $35,308 threshold is just a proposal and must go through the formal rulemaking process, which includes a comment period. Employers—and other interested members of the public—that wish to comment on the proposal may do so by visiting www.regulations.gov. They will have 60 days to comment from the time the rule is published in the Federal Register. For now, the FLSA salary threshold is still $23,660 for the white-collar exemptions." The DOL anticipates that the final rule will be effective January 2020.
There is no action needed at the moment, but the "Overtime Rule" should be on your radar. At some point this year, you will need to evaluate your current exempt employees to determine if they meet the salary AND job duties requirements.
Prevention and Investigation
By Sarah Zasso, SHRM-SCP, SPHR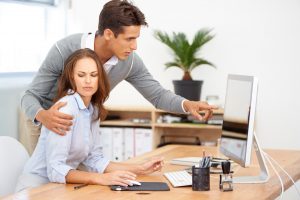 According to the National Women's Law Center, at least 1 in 4 women have experienced sexual harassment in the workplace. According to the EEOC, 70% of targets of harassment do not report the harassment.  Women (and men) who have long been silent are now finding their voices.
The latest headlines indicate a change has come and employers need to be prepared for employees to bring concerns forward at a potentially unprecedented rate.  Employers should prohibit any type of harassment and create a culture of respect, not only because it is simply the right thing to do, but also because harassment: can cost emotional and physical harm to victims, it is illegal, can cost thousands in legal fees, decrease productivity and morale, and can harm company reputation.
In order to prevent harassment, you must first understand the definition of sexual harassment.  Per the EEOC:
Sexual harassment is a form of sex discrimination that violates Title VII of the Civil Rights Act of 1964. Title VII applies to employers with 15 or more employees, including state and local governments. It also applies to employment agencies and to labor organizations, as well as to the federal government.
Unwelcome sexual advances, requests for sexual favors, and other verbal or physical conduct of a sexual nature constitute sexual harassment when this conduct explicitly or implicitly affects an individual's employment, unreasonably interferes with an individual's work performance, or creates an intimidating, hostile, or offensive work environment.
Sexual harassment can occur in a variety of circumstances, including but not limited to the following:
The victim as well as the harasser may be a woman or a man. The victim does not have to be of the opposite sex.
The harasser can be the victim's supervisor, an agent of the employer, a supervisor in another area, a co-worker, or a non-employee.
The victim does not have to be the person harassed but could be anyone affected by the offensive conduct.
Unlawful sexual harassment may occur without economic injury to or discharge of the victim.
The harasser's conduct must be unwelcome
Prevention
Anti-Harassment Policy
You should have a comprehensive policy (including discriminatory and sexual harassment) that defines and prohibits harassment.  The policy should include a guideline of reporting harassment, as well as a "no-retaliation" policy.  Many victims do not report their claims because they fear retaliation.  Unfortunately, retaliation is a reality and many victims have reported being fired, demoted, ridiculed, and more after filing claims with management or HR.  Your policy should create a culture of "safe reporting" with no fear of retaliation.  The policy should also include consequences, up to and including termination, for violation of the Anti-Harassment policy. Note: Inappropriate behavior should not have to meet the legal definition of harassment to be a violation of your policy and there should be content in your policy to reflect as such.
Training
It is critical (from a culture and legal perspective) to have Anti-Harassment training for all employees.  I recommend that you conduct anti-harassment training at orientation for all new hires, as well as on an annual basis.  This can be achieved by videos, online training, and "Instructor Led" training.  I do suggest that the policy be reviewed and discussed in New Hire Orientation, in addition to any video or online training.   Your Supervisors/Managers have roles and responsibilities regarding harassment that require a higher-level, separate training. It is encouraged to have Supervisor training conducted by a 3rd party (an HR Consultant, for example) to ensure effectiveness, understanding, and liability.
No Retaliation
As I said earlier in the article, it is essential to create a company culture where victims of harassment feel comfortable coming forward to management or HR, without fear. That starts with your policy, but is truly demonstrated in "practice."  Be clear to your employees and managers that retaliation will not be tolerated and follow through with consequences.
Investigations
Unfortunately, prevention is not 100% effective and there may be harassment allegations* at your company.  Per Title VII, harassment is illegal and you are required to investigate harassment complaints.  Take all reports of harassment seriously, no matter how small they appear to be, even if they don't meet the standard of "illegal" harassment.  The worst thing that a company can do is disregard a harassment complaint.
A thorough and comprehensive investigation should be conducted, including speaking with the claimant, alleged offender, and any potential witnesses.  Allegations must be addressed with urgency and without bias.  And, of course, don't forget to document.  It is often recommended that a company hire a 3rd Party (HR Consultant or Employment Law Attorney) to conduct the investigation, to eliminate the perception of bias and to protect the integrity of the investigation.  At the end of the investigation, if there was a finding of inappropriate behavior, the alleged employee must be held accountable and the claimant notified.
*An allegation does not necessarily mean guilt.  Do not be reactive or assume, investigate.
It Starts at the Top
Leaders (C-Suite, Owners, Supervisors) set the example. Subordinates model their supervisor's behavior, so it is crucial that leaders follow and enforce the expectations of the Anti-Harassment policy, at all levels.
Conclusion
What is considered Harassment has progressed over time, as our social culture has progressed.  The reality of the matter is that behavior that was perceived as acceptable ten (10) years ago may be offensive today.  That is why it is critical to educate employees of what is – and isn't – acceptable behavior in the workplace.  Due to lack of awareness, training, enforcement, and fear – this is now a national issue.  The good news is that you can change (or reinforce) the culture of your organization.
Note: This is a high-level and brief overview and is not all-inclusive or comprehensive.
How I Can Help
I recently attended a Labor Law Update and the attorney stated, "If you remember nothing from today, remember that preventing Harassment must be a top priority for all employers."  I can help you make this a top priority for your organization: create a policy, conduct in-person training (regionally), lead investigations, and help you create an overall anti-harassment culture.  Contact me today at [email protected] to discuss.
This article is for general information purposes only.  I am not an attorney; accordingly, the information presented is not legal advice, and is not to be acted on as such.