---

POST OSHA 300A BY FEBRUARY 1ST
Covered employers must complete and post their 2016 annual summary (Form 300A) of work-related injuries and illnesses by Feb. 1, 2017, and keep it posted in a common area (in each physical location) until April 30, 2017.
All employers required to keep Form 300, the Injury and Illness Log, must utilize the annual summary Form 300A to comply with posting requirements even if there have been no recordable injuries or illnesses, as the Occupational Safety and Health Administration (OSHA) will continue to focus on record-keeping violations.
This year's summary must include the total number of job-related injuries and illnesses that occurred in 2016. More than 1.4 million establishments are required to maintain OSHA logs on an annual basis. The summary Form 300A reports a business's total year-end number of fatalities, missed workdays due to injury or illness on the job, job transfers or restrictions, and injuries and illnesses as recorded on Form 300. It also includes the number of employees and the hours they worked for the year.
Employers with more than 10 employees must track injuries and illnesses and post the form. Certain low-hazard industries are exempt. Businesses that employ 10 or fewer workers or those that fall into an exempt category must also record injuries if they are required to by OSHA or the Department of Labor's Bureau of Labor Statistics for survey purposes. Only the summary must be posted; the log (Form 300) does not have to be displayed, but must be available to employees, their representatives or OSHA inspectors. Companies with multiple jobsites should keep a separate log and summary for each location that is expected to be operational for at least a year.
Click HERE to view a link to OSHA Injury and Illness Recordkeeping and Reporting Requirements.
---
Sabeza HR is always here to help you navigate the changing world of Human Resources.  I would be thrilled to meet with you for a free consultation to discuss your HR needs.  Please do not hesitate to contact me at sarah@sabezahr.com or 843-668-4041.

---

SMART I-9 FORM
The NEW "Smart" I-9 form has been released and is eligible for use.  The purpose of the updated I-9 form is to allow for improved ease of use and reduce errors by creating a more user-friendly form.
Effective 1/22/17, all employers are required to use the new Smart I-9 form, and discontinue use of the previous form. Employers should continue to follow existing storage and retention rules for all of their previously completed I-9 forms.
Click HERE to download the new "Smart" I-9 form from the USCIS website.
The intent of the new "Smart" form is to allow employers and employees to complete the majority of the information via computer.  A few features of the new form:
Employees and employers completing it on the computer will see helper text for each field.
Employees and employers completing it on the computer can choose from drop-down lists for acceptable documents, calendars, states, and countries.
Employees and employers will receive alerts if information is left blank or incorrect.
Employers can enter information in a new "Additional Information" field, instead of in the margins.
Employees who use multiple translators and preparers have additional space.
NOTE:  Although this form can be completed via computer,  employers will still need to follow their normal printing and signing procedures.  The form is not required to be completed via computer, you may still hand-write the information.
---

E-Verify and Right to Work Posters
E-Verify is an Internet-based system that compares information from an employee's Form I-9, Employment Eligibility Verification, to data from U.S. Department of Homeland Security and Social Security Administration records to confirm employment eligibility.
South Carolina is a mandatory E-Verify state.  All SC employers must complete an I-9 and submit an E-Verify case for all new hires.
Mandatory E-Verify state employers and employers who are required/elected to participate in the program, are required to display E-Verify Participation and Right to Work posters (both English and Spanish, other languages as appropriate).  The posters must be placed in a conspicuous place, easily viewed by employment candidates.
Click HERE for the link to review and print the required forms.
---
HR COMPLIANCE AUDIT
You may have noticed a theme with the above topics.  They are both about HR Compliance.  HR Compliance is critical in any organization, regardless of industry or size.  Failure to meet Employment law regulations and requirements could result in fines and penalties and – worst case scenario, a lawsuit.
Help your company avoid unnecessary financial loss and conduct an annual HR Compliance Audit before the end of Q1 2017.  I'll be honest – I totally get it and understand that most companies don't "enjoy" conducting HR Audits.  That said, they are still an essential part of legal, financial, and cultural success to an organization.
A sample of a few areas to audit:
Employee Files
I-9
E-Verify
Job Descriptions
Employee Classifications
Labor Law Posters
And much more
Please do not hesitate to contact me if you are interested in ensuring your company is in HR compliance!
---

Sabeza HR is always here to help you navigate the changing world of Human Resources.  I would be thrilled to meet with you for a free consultation to discuss your HR needs.  Please do not hesitate to contact me at sarah@sabezahr.com or 843-668-4041.
Please do not hesitate to contact me if you are interested in ensuring your company is in HR compliance!
Yesterday, 11/22/16, a federal judge in Texas blocked the FLSA changes (increased salary threshold) that were to go into effect next week, 12/1/16.  The judge granted a preliminary injunction.  This does NOT mean that rule is permanently gone.  This means that the rule has been put on "pause" and they may press "play" at a later date.  A lot is unknown at this time.  See the article below from the Society for Human Resource Management – it provides some clarification and answers many employer questions.
If you have already made the changes in anticipation of the 12/1/16 deadline and have questions about what to do now, please do not hesitate to contact me for a consultation to discuss.
Sarah Zasso, SHRM-SCP, SPHR
843-668-4041
sarah@sabezahr.com
---
SHRM Article, by Lisa Nagele-Piazza, SHRM-SCP, J.D.
Nov 23, 2016
THE OVERTIME RULE HAS BEEN BLOCKED: NOW WHAT?
A federal judge in Texas has blocked the Department of Labor's (DOL's) new federal overtime rule, which would have raised the Fair Labor Standards Act's (FLSA's) salary threshold for exemption from overtime pay from $23,660 to $47,476.
Judge Amos Mazzant of the U.S. District Court for the Eastern District of Texas granted a preliminary injunction on Nov. 22 in a lawsuit challenging the DOL's authority to raise the salary threshold. For now, businesses and employees are in a holding pattern.
"A preliminary injunction preserves the status quo while the court determines the department's authority to make the final rule as well as the final rule's validity," Mazzant said.
What does this mean for employers? Here are some questions HR professionals may be grappling with in the aftermath.
Does my company still have to do anything by the Dec. 1 deadline? 
The short answer is no. For now, the overtime rule will not take effect as planned on Dec. 1, so employers may continue to follow the existing overtime regulations.
Is this a final decision that permanently puts an end to the rule?
No. The overtime rule could still be implemented later down the road.
A preliminary injunction isn't permanent, as it simply preserves the existing overtime rule—which was last updated in 2004—until the court has a chance to review the merits of the case objecting to the revisions to the regulation.
However, the revised regulation may face an uphill battle: The judge wouldn't have granted the preliminary injunction unless, among other things, he thought the challenge had a substantial likelihood of succeeding.
Can the Labor Department challenge the decision?
Yes. The department said in a statement that it is currently considering all of its legal options.
The "overtime rule is the result of a comprehensive, inclusive rulemaking process, and we remain confident in the legality of all aspects of the rule," the DOL said.
Does this ruling apply to all employers nationwide?
Yes. Because the overtime rule would apply to all states, the judge decided to apply the injunction nationwide.
"A nationwide injunction protects both employees and employers from being subject to different [executive, administrative and professional] exemptions based on location," he said.
What should I do if my company has already either raised exempt employees' salaries to meet the new threshold or reclassified employees to nonexempt status?
Employers will likely want to leave decisions in place if they have already provided salary increases to employees in order to maintain their exempt status, said Alfred Robinson Jr., an attorney with Ogletree Deakins in Washington, D.C., and a former acting administrator of the DOL's Wage and Hour Division. It would be difficult to take that back.
If there are exempt employees who were going to be reclassified to nonexempt, but haven't been reclassified yet, Robinson said employers may want to postpone those decisions and give the litigation a chance to play out.
"This should be a welcome sign for employers, even if they've already made changes," Robinson said. "They can at least hold off on further changes."
Employers shouldn't assume, however, that the overtime rule will be permanently barred. They should still have a plan to move forward if necessary in the future.
---
*Make Sabeza HR your HR Department.  For an affordable monthly fee, we become your hiring manager, create and revise policies, handle employee issues and give you expert, one-on-one HR guidance from an experienced professional.  Contact Sabeza HR for a free, no-obligation discussion.  Sabeza HR is "Your Human Resources Solution."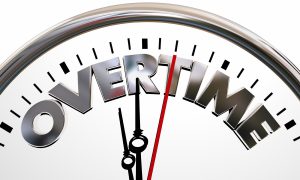 You have less than thirty days.  That is how much time employer's (regardless of company size) have left to prepare for the Department of Labor's new FLSA Overtime Rule.  Key changes include increased salary threshold (from $23,660/year to $47,476/year) and intermittent increases every three years.  The FLSA changes go into effect on Thursday, 12/1/16.
ARE YOU READY?
By this time, you should have already reviewed your employee census and determined which employee's are affected (employee's who are currently Exempt, but will not meet the new salary threshold), determined if you are increasing the salary to meet the new requirement or converting the employee to Non-Exempt, and communicated (or have a plan to) the changes to affected employees and supervisors.
If you feel that you are not ready for 12/1/16 or have questions, Sabeza HR is here to help.  Please do not hesitate to contact me at sarah@sabezahr.com or 843-668-4041.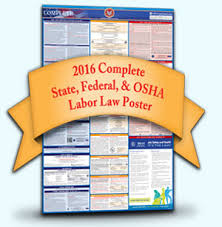 Effective August 1, 2016, employers must post new Fair Labor Standards Act (FLSA) and Employee Polygraph Protection Act (EPPA) postings. Penalty amounts listed on previous versions of posters are incorrect as of that date.
The Department of Labor has removed penalty amounts from the posters and has added a section about the rights of nursing mothers to the FLSA poster. Employers are required to post the revised versions of these federal posters.
How To Comply
Order a new labor law poster online, there are a variety of options and pricing.  Ensure you are ordering the Federal All in One/State Poster combination for the best value and to save wall space.  Order in multiple languages, if applicable to your organization.
You are not required to have the "pretty" poster, you can print the updated posters for FREE by clicking on the links below:
https://www.dol.gov/whd/regs/compliance/posters/minwagep.pdf
https://www.dol.gov/whd/regs/compliance/posters/eppac.pdf
Reminder:  If your company operates in multiple states, you must have a poster for the applicable state in each appropriate state location.  Ex:  SC must have a SC poster, NY must have a NY poster, etc.  Also, the postings must be posted in a conspicuous location – such as a breakroom or by the timeclock – where all employees have routine access.  If your company has multiple locations, you must have a compliant labor law poster in each location.
---
Questions?  Please do not hesitate to contact me at sarah@sabezahr.com or 843-668-4041.
*Make Sabeza HR your HR Department.  For an affordable monthly fee, we become your hiring manager, create and revise policies, handle employee issues and give you expert, one-on-one HR guidance from an experienced professional.  Contact Sabeza HR for a free, no-obligation discussion.  Sabeza HR is "Your Human Resources Solution."