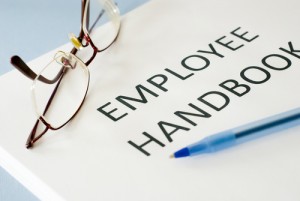 Getting ready for 2016?  Don't forget about your employee handbook!  Don't have one?  No problem, I would be glad to help you create one.  Not sure the last time your handbook was updated?  OK, go get the handbook from your bottom file drawer, wipe off the dust – if it is more than one (or two) years old without a review, then it's time for an update.
Clients often share with me that they don't "like" handbooks or they don't "need" them.  That always confuses me because why wouldn't you want a handbook?  A handbook performs two simple, yet very important, functions.  One – it tells the employee what they can expect from the company (benefits, payday, etc) and Two – it tells the employee what the company expects from them.  Why would you not want to share that with an employee and set expectations?! 
Handbooks can help win unemployment claims and can often help provide legal protection in the case of an employee lawsuit.  Handbooks, if written and executed correctly, actually help protect you as the employer.  And they help set the culture of your company.  It's a win-win!
I have one goal – I treat my clients as I would want to be treated.  Let me help you reinforce the culture of your company and limit your risk.  Start 2016 off right with a new or updated employee handbook, contact me today to schedule a consultation at 843-668-4041.
Sarah Zasso is the Owner/Principal HR Consultant of Sabeza HR (www.SabezaHR.com), a Human Resources Consulting and Recruiting company serving the United States.  Sarah has almost 15 years of Human Resources experience, achieved both the SHRM-SCP and SPHR certifications, earned a Bachelor's degree in Organizational Leadership and Communication, and currently serves on the Board of the Coastal Organization of Human Resources.  If you have any questions or would like to schedule a consultation, please do not hesitate to contact Sarah at sarah@sabezahr.com.  
This article is for general information purposes only.  I am not an attorney; accordingly, the information presented is not legal advice, and is not to be acted on as such.
How do I Guarantee Not to Get Sued by an Employee?
By Sarah Zasso, SHRM-SCP, SPHR
So, how can you guarantee not to get sued by an employee?  The answer is—are you ready for it?—you can't.  I'm sorry to say that I nor anyone else can ever "guarantee" that you won't be sued by an employee for wrongful termination, failure to hire, promotion/demotion, disciplinary action, investigations, etc.  We simply can't control the actions of others.  Even if everything is done right—even if every "i" is dotted and every "t" is crossed.  Even if it was all handled with respect and by the letter of the law.  That's the reality, there is no guarantee.  That's the bad news.
However, there is good news!  There are many things that you can do to try to prevent a lawsuit, reduce your risk, and put yourself in a more defensible position if legal action is taken against you or your company.
We currently live in a litigious society where every employment action must be considered with a legal perspective.   What is an employment action?  Generally, that is referring to hiring/firing, promotions/demotions, internal investigations, pay/wages, disciplinary action and so on.
What can employers do to reduce risk and put themselves in more defensible positions?
Know and follow the law!  Ignorance of the law is not an excuse for an employer.  Understand which laws apply to you—federal and state (laws are different in each state).  Depending on the number of employees you have, certain laws and statutes apply to you.  For more information, visit http://www.dol.gov/compliance/guide/index.htm.
Have a handbook!  A handbook is a wonderful tool and can be one of the biggest pieces of your defense.  A handbook serves two very simple, yet important functions.  It tells the employee what to expect from the employer (PTO, holidays, pay day, legal, etc) and tells the employee what the employer expects from them (Harassment Policy, Violence Free Workplace Policy, Standards of Conduct, etc).  Ensure that each employee signs a handbook acknowledgement upon hire and review/update your handbook every 1-2 years.  Not only does the handbook and acknowledgement form help you from a legal perspective, it also helps you with unemployment claims if an employee was terminated for cause for a violation of a policy.  Note: Be careful with handbooks/acknowledgements and have them created/reviewed by a professional because there are additional legalities to consider, such as implied contracts.  There is specific verbiage that should be included in handbooks (depending on state) to ensure clarity and protection.
Be proactive!  We are busy.  I get it.  But taking the time to ask some questions when you start noticing abnormal behavior (employee who is normally outgoing and happy is now quiet and reserved) can prevent situations in the future.
Say something!  If you (referring to managers/supervisors) see something, say something.  If an employee knows that you observed inappropriate behavior and didn't do anything about it, they will think it is okay and will continue.  As will others.  If you allow repeated violation of a policy, that then becomes "practice" and that can hurt you in a lawsuit.
Be consistent!  You must apply the policies equally.  I'm not saying not to take into account length of service (someone with you for 10 days vs. 10 years) or past disciplinary action, etc.  I am the first to admit that Human Resources is very gray vs. black and white, but all things being equal, treat everyone the same.  Ask yourself if you want to hold someone accountable—"Would I hold my top performer accountable the same way as my bottom performer?"
Maintain appropriate documentation!  Let's be honest, none of us like documentation.  But, it is the key to a strong defense if you should ever find yourself in litigation.  Former coachings, verbal warnings, disciplinary actions are critical.  If conducting an investigation, document conversations the same day if possible, but within 24 hours.  Document conversations with all parties.  Ask the employees involved for statements as well.  Sometimes, the best defense is an employee's own statement.  Statements serve many purposes – the employee feels respected and they feel heard, it can demonstrate that you conducted a thorough investigation, and statements often confirm or provide new information.  Document the "why's" behind other employment actions such as, hiring, firing, demotions, layoffs, etc.
Respect everyone involved!  We are human, we have emotions, but it is important to treat everyone with respect throughout the process—whether it is a termination with cause or an application rejection.  You may find that "respect" can make a huge difference in current and former employee's attitude and behavior towards your company.
Do the right thing!  Clients often ask me, "Is this legal?"  However, that should not be the only question.  Just because it is legal does not mean that it is the "right thing" for the employee or the company.  I run my business on the thought process of "Treat others as you want to be treated."  Ask yourself before you make a decision that is questionable: "Would I want someone to treat my Mom/Dad this way?  My Son/Daughter?  Wife/Husband?"  If you have to "question" it, take a step back and verify first that it is legal to take that action, then determine if it is the right thing to do.
I know it can be scary navigating the world of litigation and employment law.  Employment law is fluid and continues to change.  Court decisions from five years ago are now being overturned.  I'm not trying to scare you, but educate and prepare you.  I hope you never have a lawsuit, but if you do—make sure you have reduced your risk and put your company in a more defensible position.  Before you make a decision on an employment action, ask yourself: "Can I defend this on the stand in a court of law? Do I know the law?"
Sarah Zasso is the Owner/Principal HR Consultant of Sabeza HR (www.SabezaHR.com), a Human Resources Consulting and Recruiting company serving the United States.  Sarah has almost 15 years of Human Resources experience, achieved both the SHRM-SCP and SPHR certifications, earned a Bachelor's degree in Organizational Leadership and Communication, and currently serves on the Board of the Coastal Organization of Human Resources.  If you have any questions or would like to schedule a consultation, please do not hesitate to contact Sarah at sarah@sabezahr.com.  
This article is for general information purposes only.  I am not an attorney; accordingly, the information presented is not legal advice, and is not to be acted on as such.
Sabeza HR is thrilled to announce that Smart Staffing Group, located in Poughkeepsie, NY, has selected Sabeza HR as their EXCLUSIVE HR Consulting partner to provide Human Resources services to their clients!  Smart Staffing is a minority woman-owned staffing firm that focuses on identifying and recruiting top talent for administrative, bilingual, clerical, customer service, healthcare, manufacturing and warehousing positions.
Sabeza HR is a Human Resources consulting firm located in Myrtle Beach, SC and provides HR Consulting throughout the country.  Sabeza HR is here to make your life easier and your company more profitable!  We can help with training, development, culture, compliance and so much more.
Sabeza HR and Smart Staffing are a perfect match and we look forward to providing exceptional service to employers in the Hudson Valley, NY and surrounding areas.  For more information on our services, please visit www.smartstaffinggroup.com and www.sabezahr.com.  We look forward to working with you!
This article below is very interesting.  Although the employee won this case, not all on the NLRB agree.  Maybe we will see a change at some point in the future? This demonstrates why it is so important for employers to have policies in place to protect themselves from lawsuits.  Don't make these decisions alone, consult with an HR expert.  I can't guarantee that an employee won't sue you, but I will help ensure that you are in a defensible position.  – Sarah Zasso, SHRM-SCP, SPHR
______________________________________________________________________________________________________________________________________
Profane Facebook Rant Was Protected, Concerted Activity
In another edition of surprising National Labor Relations Board (NLRB) decisions, the NLRB ruled that a profanity-laced posting on Facebook about a manager and his family was protected, concerted activity and that the employer violated the law by discharging the employee who posted the message.
Three key factors in the board's March 31, 2015, decision were that profanity was common on the worksite and usually went unpunished, the posting encouraged co-workers to vote for a union, and the post was just two days before a union election.
Breaking Point
Hernan Perez, a server for Pier Sixty, a catering service company in Manhattan, N.Y., was infuriated by a manager saying loudly, "Turn your head that way and stop chitchatting," while pointing to arriving guests. The manager also had said in a raised, harsh tone for the servers to "Spread out! Move! Move!"
Perez told Evelyn Gonzalez, who headed the employees' organizing effort, that he was "sick and tired of this" disrespectful behavior and that he would talk to the manager. Noting that the union election was near, Gonzalez urged Perez to stay strong and take a break to calm down.
Perez took a break outside the catering company's facility. There, he posted from his iPhone the following message on his Facebook page: "Bob is such a NASTY M—– F—– don't know how to talk to people!!!!!! F— his mother and his entire f—— family!!!! What a LOSER!!!! Vote YES for the UNION!!!!!!!"
Perez's post was visible to his Facebook friends, including 10 co-workers. He deleted the post the day after the election.
Not fast enough, though. On the day before the election, a co-worker notified the HR director about Perez's comments. The HR director viewed the post on the co-worker's office computer and printed out a copy. Following an investigation, Perez was discharged.
Post Was Protected
But the NLRB ruled that Perez's post was protected, concerted activity, noting that testimony showed that vulgar language is "rife" in the caterer's workplace among managers and employees alike. "While distasteful, the respondent tolerated the widespread use of profanity in the workplace, including the words Perez used," the board said. "Considered in this setting, Perez's use of those words in his Facebook post would not cause him to lose the protection of the act."
The board also noted that the harassment policy, which was cited as the basis for discharging Perez, "neither prohibits vulgar or offensive language in general, nor did the respondent allege that Perez's Facebook comments were directed at any protected classification listed in that policy."
Moreover, since 2005, the company had issued only five written warnings to employees who had used obscene language and there was no evidence that it had ever discharged any employee solely for the use of such language.
The board upheld an administrative law judge order calling for Perez's reinstatement plus back pay for any lost wages.
Dissent
Dissenting, board member Harry Johnson III said, "I find that Perez's vulgar and obscene Facebook comments lost the act's protection."
Johnson added, "My colleagues recast an outrageous, individualized griping episode as protected activity. I cannot join in concluding that such blatantly uncivil and opprobrious behavior is within the act's protection."
He said that the words Perez used "are qualitatively different from the use of obscenity that the respondent appears to have tolerated in this workplace," as they were a slur against the supervisor and his family.
The HR director had found the invective against the supervisor's family particularly offensive, and Johnson wrote that the HR director's reaction was "perceptive, accurate and objectively spot-on" [italics in the original].
In addition, Johnson noted that Perez's remarks were "via Facebook to co-workers and nonemployee 'friends,' a broader audience than those employees and managers within earshot of the tolerated workplace profanity." And Johnson agreed with the HR director that Perez's profanity was "quite apart from expressing an expletive when you drop something on your foot or saying to someone, 'What the hell are you doing?'
"Employers are entitled to expect that employees will coexist treating each other with some minimum level of common decency," Johnson wrote. "It serves no discernible purpose for the board to stretch beyond reason to protect beyond-the-pale behavior that happens to overlap with protected activity."
This decision is Pier Sixty LLC, 02-CA-068612 and 02-CA-070797, 362 NLRB No. 59 (2015).
By Carolyn Moran, PHR, SHRM-CP for ThinkHR
With each holiday, the ThinkHR Live Hotline receives a number of questions about paying employees for the holiday. Federal wage and hour laws do not require employers to offer payment for time not worked, or a premium for hours worked which fall on a recognized holiday. These fringe benefits are offered at the employer's discretion and governed by the employer's policy and past practice.
Special note: Some state wage and hour laws may have requirements for holiday pay or premiums; however, this is generally limited to certain industries, such as retail.
The following are some myths and facts regarding holiday pay:
Myth: We are required to pay a holiday premium to nonexempt employees who work on a recognized national holiday.
Fact: An employer is not required to pay time and one half when an employee works on a holiday unless company policy provides for holiday premium pay.
Myth: Holiday pay is included in hours of work for the purposes of calculating weekly overtime for nonexempt employees.
Fact: Only actual hours of work are used to determine overtime pay requirements. Employers do not have to count holiday pay toward the calculation of the overtime requirement because these hours are not actually worked and are therefore not considered as hours counted toward overtime.
Myth: Employers can deduct a full day of salary for exempt employees due to a holiday closure.
Fact: Under the wage and hour laws, exempt employees are paid on a "salary basis." Employers may not make deductions from an exempt employee's pay for absences caused by the employer or by the operating requirements of the business during the workweek, such as the business being closed for a holiday.
Myth: Employees who are on a protected leave (e.g. FMLA, USERRA, etc.) still need to be paid holiday pay.
Fact: There is no requirement to provide employees on any type of leave with holiday pay, so it would depend upon the company's policies and practices. Even if leave is taken intermittently, nothing under the federal or state family and medical leave laws require an employer to continue a holiday pay benefit during an unpaid leave for either hourly nonexempt or exempt employees. For exempt employees on FMLA leave, the "salary basis" test is suspended during periods of unpaid leave.
Myth: We have to pay a nonexempt employee holiday pay even if the holiday falls on their normally scheduled day off.
Fact: Company policy and past practice will determine obligations to pay an employee who is normally scheduled off on an observed holiday. Some employers offer a different day off to those who are not normally scheduled to work on the holiday (usually the scheduled day before or after the holiday), or they include an additional "holiday" pay on the employee's check — meaning their paycheck includes all hours worked, plus holiday pay. Neither option is required.
Establishing your pay policy for holidays and other periods where employees take time off and communicating those pay practices to all employees can help ensure that the myths regarding pay for time not worked are clarified.